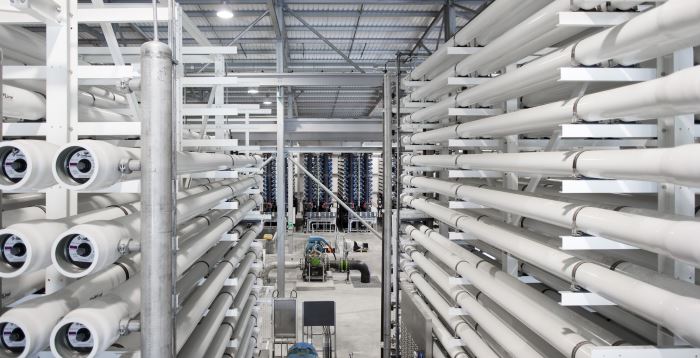 ACCIONA, partnered with SEPCOIII, will undertake the construction of the Jubail 3B desalination plant. Its capacity of 570,000 m3/day will supply 2 million people in the cities of Riyadh and Qassim.
ACCIONA and its partner are the main EPC contractors in the project, which will be developed and financed by a consortium consisting of ENGIE, NESMA and AJLAN for the publicly-owned Saudi Water Partnership Company (SWCP).
SWPC has announced the financial closure of the project, which is estimated at US $ 692 million
The entry into service of the plant is planned for Q1 2024, and it will be handed over under a 25-year BOO (Build-Own-Operate) agreement
The plant will be located in the industrial city of Jubail on the Arabian Gulf coast in eastern Saudi Arabia, around 100 kilometres from Dammam
ACCIONA previously built the Jubail RO4 desalination plant (capacity 100,000 m3/day) on the same site.
ACCIONA will undertake the construction of the entire reverse osmosis system, including the civil works and the pumping of raw water.
Post navigation